210 pages, German and English
Edited by Rebecca Riedel and Mieke Ulfig
Published by Verlag Mortadella Press, Berlin, 2020
Photographies from the series Permanent Daylight in dialoge with:
Nadja Abt, Anne-Katrin Ahrens, Christoph Bach, Claudia Basrawi, Kathrin Becker, Michael >Open Mike< Becker, Khyana el Bitar, Carlos de Brito, Carola Diekmann, Nikola Dietrich, Stefan Goldmann, Ricardo Domeneck, Julischka Eichel, Heinz Emigholz, Dennis Eden, Lukas Feireiss, Daniel Fiedler, Frauke Finsterwalder, Heike Karin Föll, Martin Germann, Milena Gheorghiu, Adrienne Göhler, Catalina und Elena und Elisa Gómez Alvarez, Stefan Grissemann, Martin Gustavsson, Lisa Herfeldt, Beate Hindermann, Simon Hofer, Ben Hopkins, Chris Imler, Jan Kage, Semra Kertal, Zsuzsanna Kiràly, Stephanie Kloss, Thomas Köhler, Thomas Kürstner, Dennis Loesch, Beate Lütke, Jette Miller, Franz Müller, Viktor Neumann, Jacques Palminger, Erhart Pfotenhauer, Paul Plamper, Boris Pofalla, Paul B. Preciado, Nadja Quante & Maxwell Stephens, Daniel Reuter, Rebecca Riedel, Yves Rosset, Attila Saygel, Hank Schmidt in der Beek, Friedel Schmoranzer, Schneider TM, Jan Schomburg, Fabian Schubert, Christian Siekmeier, Raimar Stange, Bettina Steinbrügge, Patricia Talacko, Laura Tonke, Bastian Trost, Nasan Tur, Malte Ubenauf, Christopher Uhe, Mieke Ulfig, Senthuran Varatharajah, Katrin Vellrath, Jonas Weber Herrera, Robert Weixlbaumer, Sandra Wrampelmeyer, Florian Zeyfang

The artists and publishers of Mortadella Press, Rebecca Riedel and Mieke Ulfig, invited Niklas Goldbach to dialogically expand his worldwide photographed motifs of the series Permanent Daylight by inviting more than 80 contributors. The participants were drawn from a wide variety of disciplines, generations, and nationalities.A conscious decision was made not to edit the contributions. "Oh, Permanent Daylight!" displays a polyphony of voices and highlights non-universality as a productive category and thus create new syntheses between artwork, author and accompanying text.

SLIDESHOW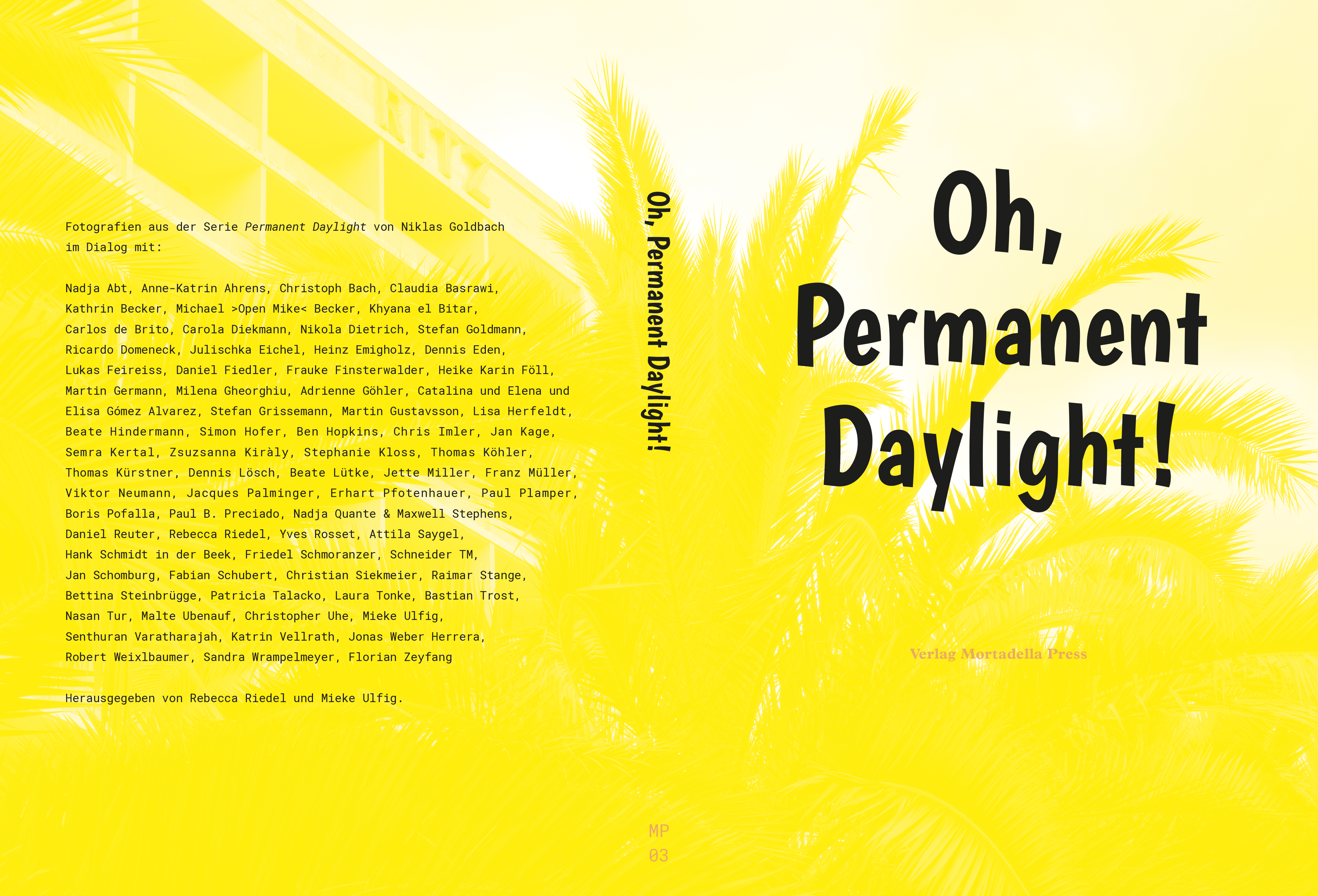 210 pages, German and English
Edited by Rebecca Riedel and Mieke Ulfig
Published by Verlag Mortadella Press, Berlin, 2020
READING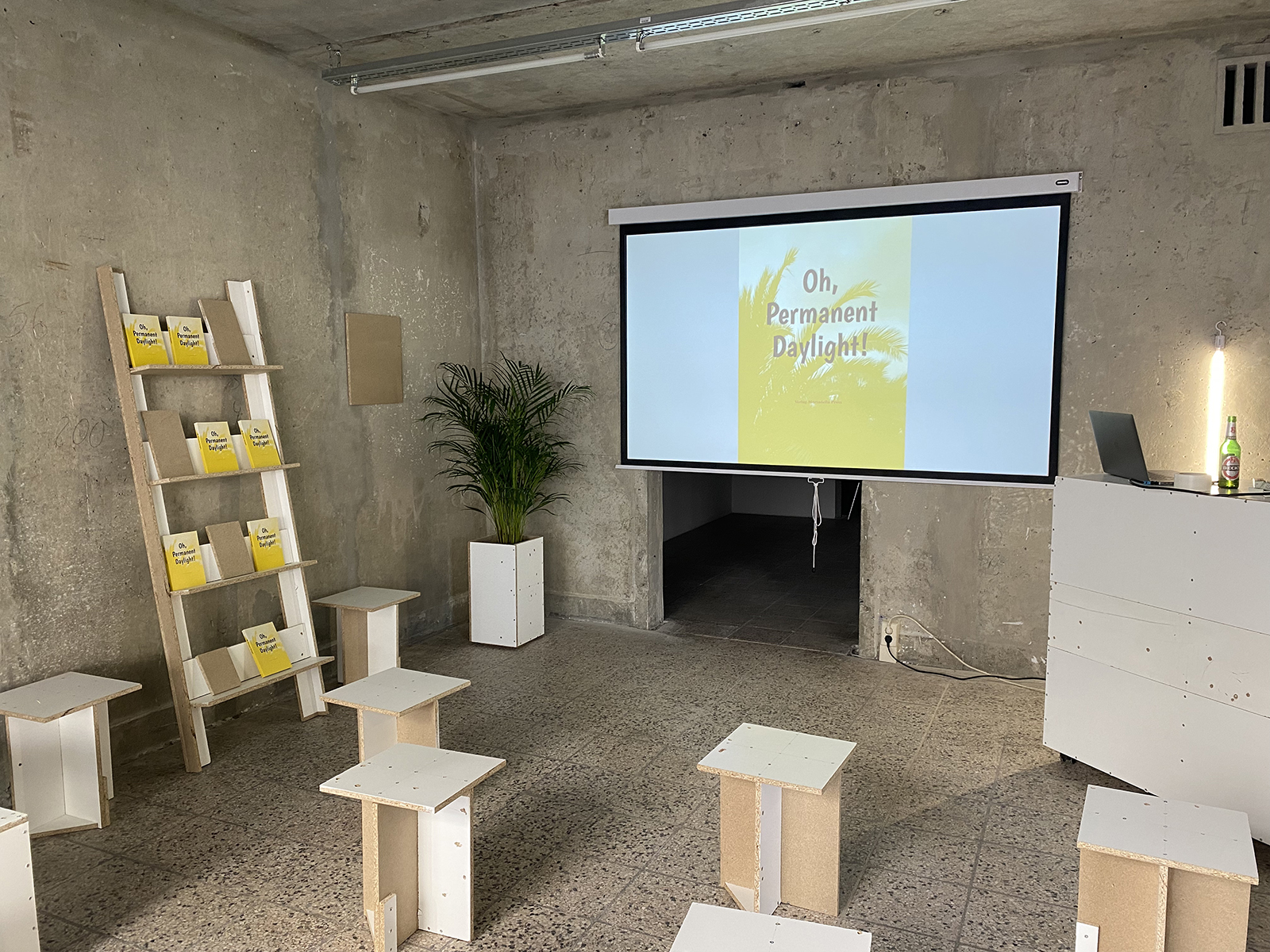 "Niklas Goldbach: Von Häusern und Bäumen" -- Lecture Performance & Reading
"Die Möglichkeit einer Insel" Project Space, Berlin, 08/2021
Initiated by Stepahnie Kloss