INTO THE PARADISE MACHINE
Video Screening & Lecture Performance, Stereo, 55:00 min, 2022

THE PARADISE MACHINE is the latest comprehensice project by Berlin-based photo and video artist Niklas Goldbach. Starting point for the project are the "Center Parcs" bungalow complexes built in the 1970s in the Netherlands for family holidays, a fusion of Dutch modernist ideals and Catholic moral conservatism. The Corona pandemic has given Center Parcs a new status as regional and supposedly safe holiday resorts, decidedly aiming towards traditional family structures.
Since its founding in 1967, the franchise has offered families a "second home for a short holiday in the countryside" in more than 30 European holiday parks. The parks share a corporate identity and have the same basic structure: they consist of over 800 uniform single-family homes in wooded areas, grouped around a lake and a "Market Dome", which also houses a subtropical adventure pool and restaurants. The interconnected groups of bungalows were built for the comfort of a new middle class – to this day, criticised as too commercial and an excess of consumer culture that disrupts the natural environment.
Conceived as a multimedia installation, this first chapter INTO THE PARADISE MACHINE focusses solely on video material of the bungalow complexes that have been filmed in several "Center Parcs" in Germany, Belgium and the Netherlands.
The accompanying performance lecture departs from impressions of the diary of the Dutch architect Jaap Bakema, who was responsible for the design of the bungalow complexes, written during his time as a prisoner in a German deportation camp in the north of France in 1943.

Sponsored by the Federal Government Commissioner for Culture and the Media NEUSTART KULTUR

---
THE PARADISE MACHINE  ist das neueste umfassende Projekt des Berliner Foto- und Videokünstlers Niklas Goldbach. Ausgangspunkt für das Projekt sind die in den 1970er Jahren in den Niederlanden für Familienurlaube entstandenen Bungalow-Anlagen der Center Parcs, eine Verschmelzung von niederländisch-modernistischen Idealen und katholisch-moralischem Konservatismus. Die Corona-Pandemie hat den Center Parcs einen neuen Status als regionale und vermeintlich sichere Urlaubsorte beschert, die sich dabei dezidiert an traditionelle Familienformen richten.
Seit ihrer Gründung im Jahr 1967 bietet das Franchise in mehr als 30 europäischen Ferienparks Familien ein "zweites Zuhause für den Kurzurlaub im Grünen". Die Parks sind in ihrer Grundstruktur alle gleich aufgebaut und teilen eine Corporate Identity: sie bestehen aus Ferienhaussiedlungen von über 800 uniformen Einfamilienhäusern in Waldgebieten, die sich um einen See und einen "Market Dome" gruppieren, in dem sich auch ein subtropisches Erlebnisbad und Gastronomie befinden. Die zusammenhängenden Bungalowgruppen wurden für den Komfort einer neuen Mittelschicht gebaut – Kritiker kritisieren sie bis heute als zu kommerziell, als ein Exzess der Konsumkultur, der die natürliche Umwelt stört.
Als Multimedia-Installation konzipiert, konzentriert sich dieses erste Kapitel INTO THE PARADISE MACHINE ausschließlich auf Videoaufnahmen der Bungalowanlagen, die in verschiedenen "Center Parcs" in Deutschland, Belgien und den Niederlanden gedreht wurden. Die gleichzeitig stattfindende Lesung stellt Impressionen aus dem Tagebuch des für den Entwurf der Bungalowanlagen verantwortlichen niederländischen Architekten Jaap Bakema vor, die 1943 während seiner Zeit als deutscher Kriegsgefangener in einem Deportationslager in Nordfrankreich verfasst wurden.
Gefördert durch die Beauftragte der Bundesregierung für Kultur und Medien NEUSTART KULTUR
EXCERPT
Recorded at 23.6.2022, Grüner Salon, Volksbühne Berlin
Please contact the studio for a full version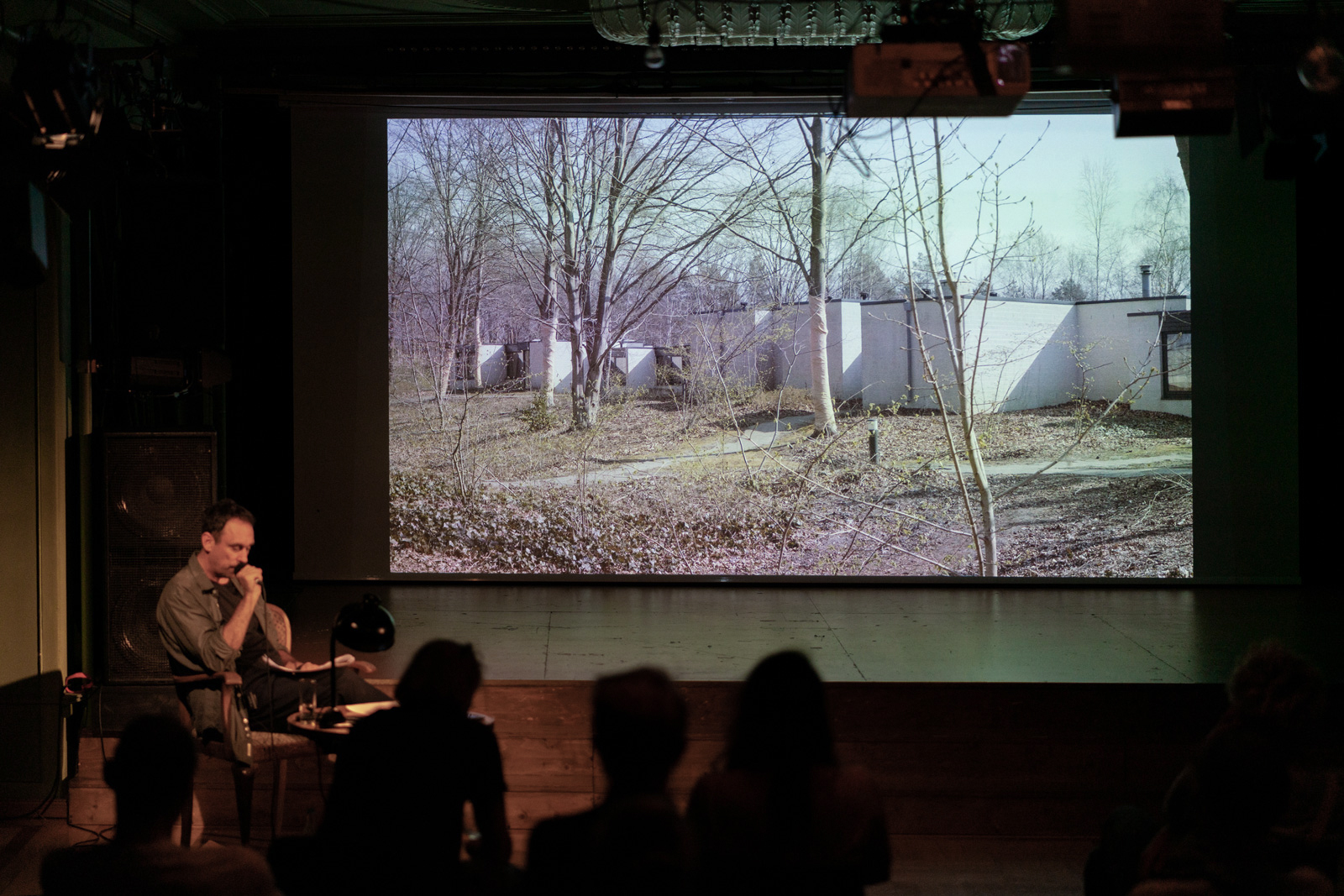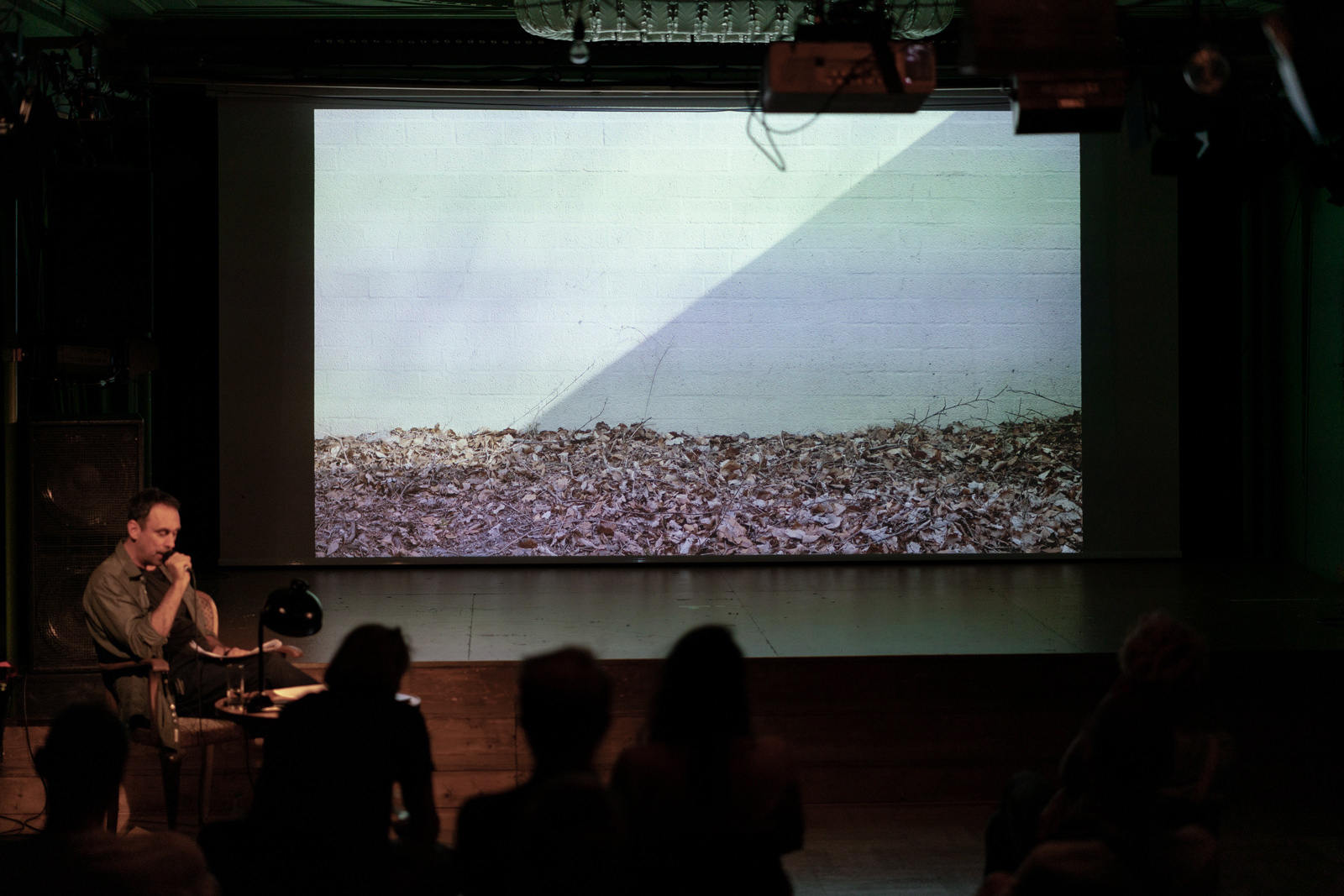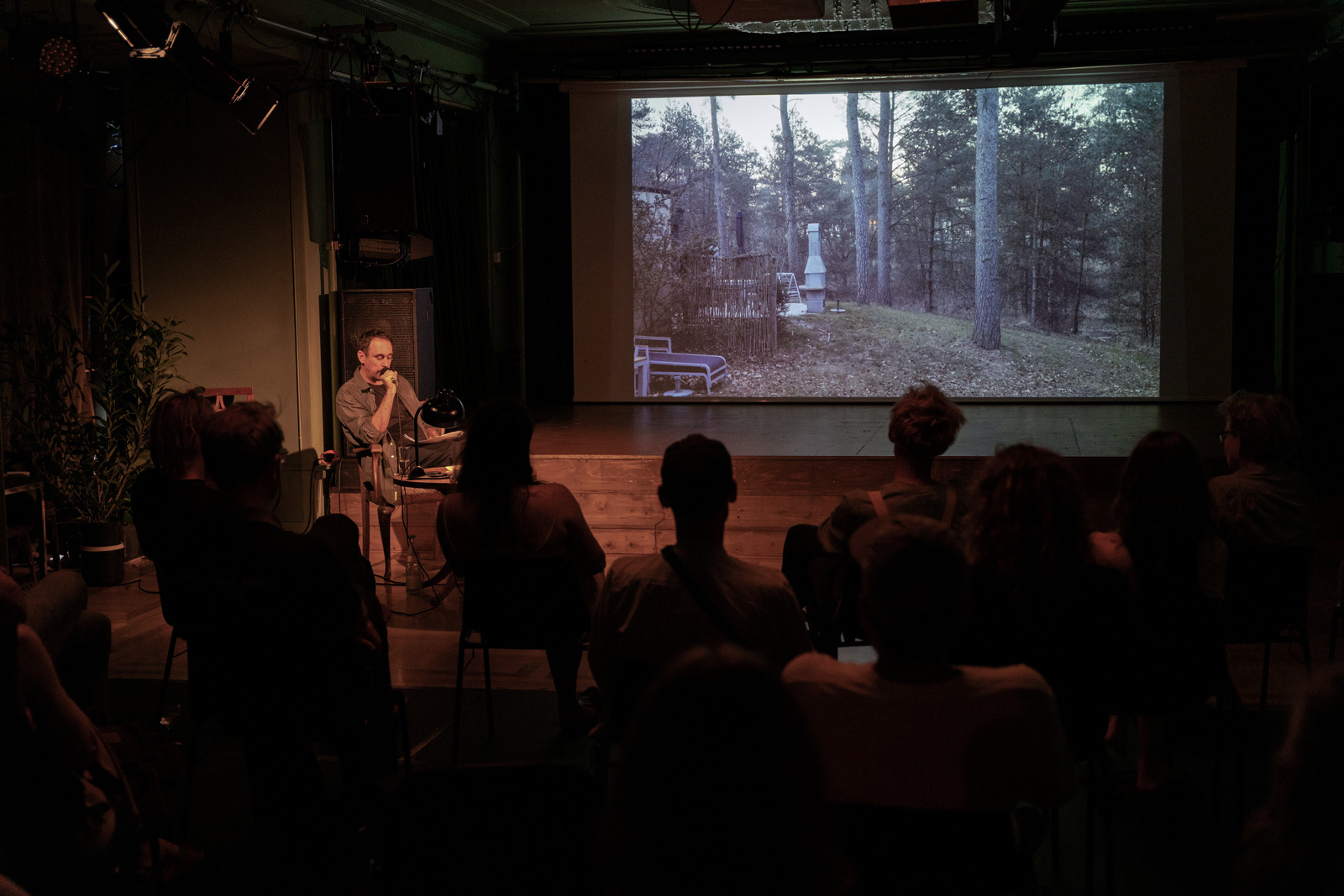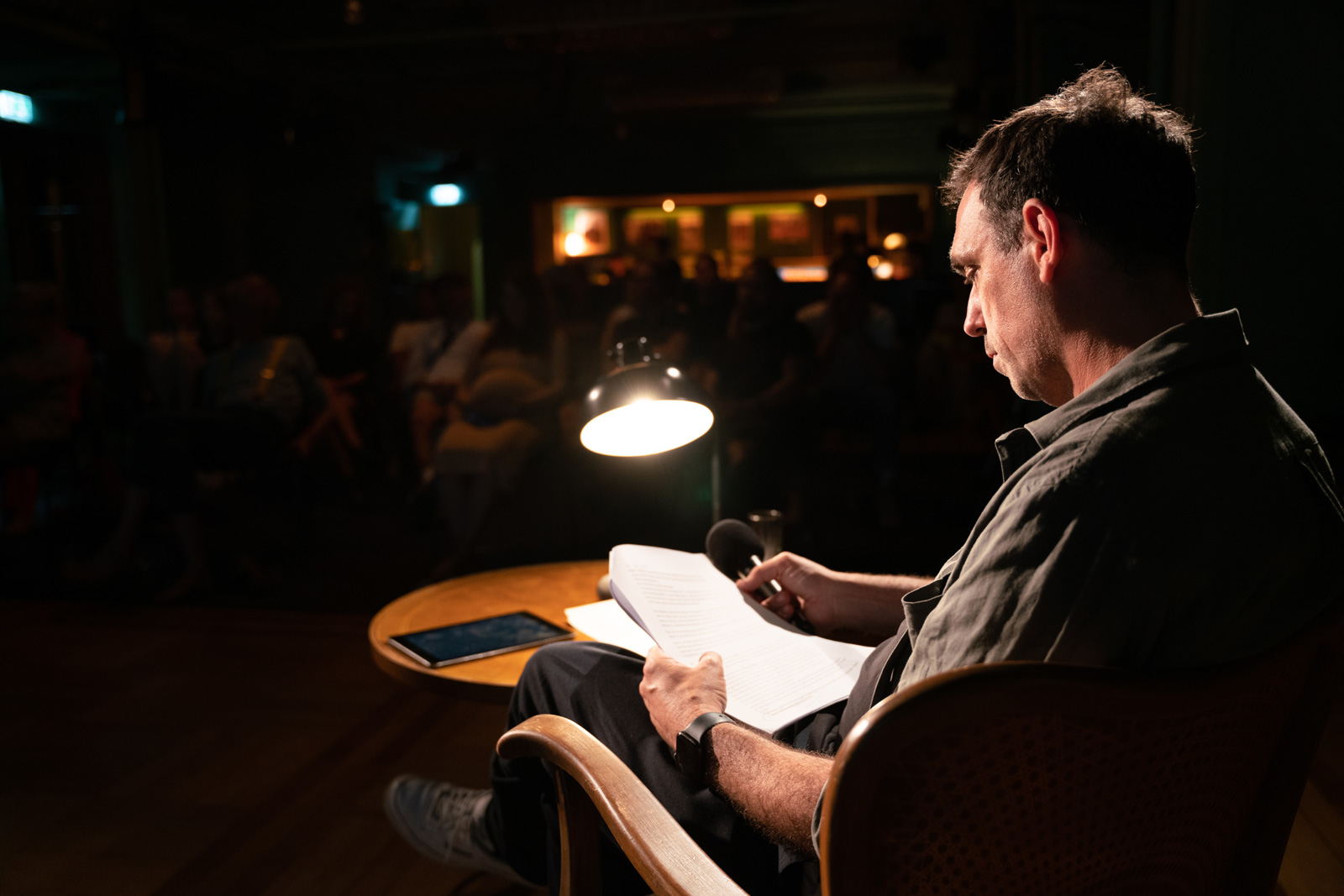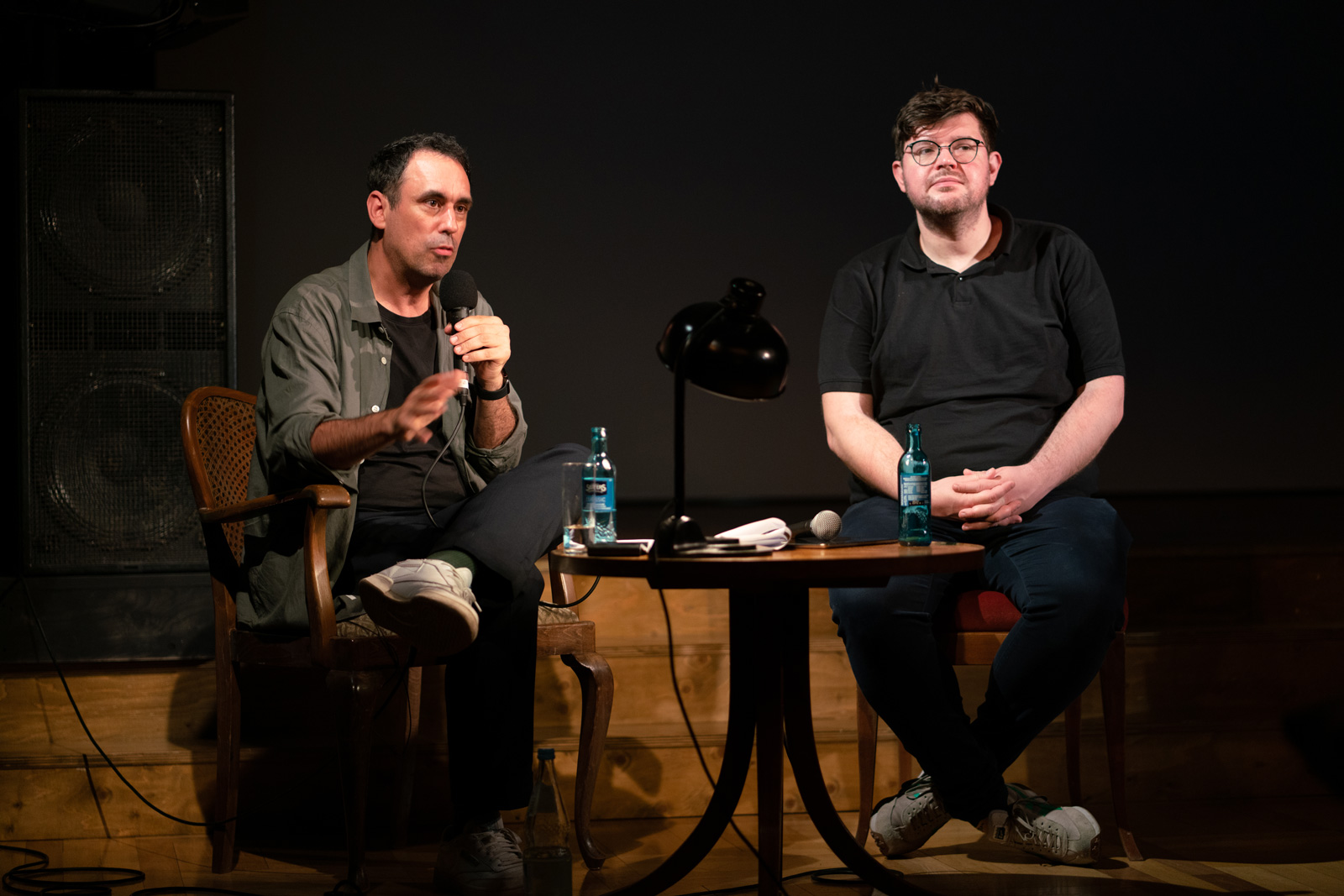 INTO THE PARADISE MACHINE
Video Screening & Lecture Performance, Stereo, 55 min, 2022
Followed by an artist talk with Cosmin Costinaş
23.6.2022, Grüner Salon, Volksbühne Berlin
https://www.volksbuehne.berlin/#/de/veranstaltungen/into-the-paradise-machine
Documentation: Christian Weller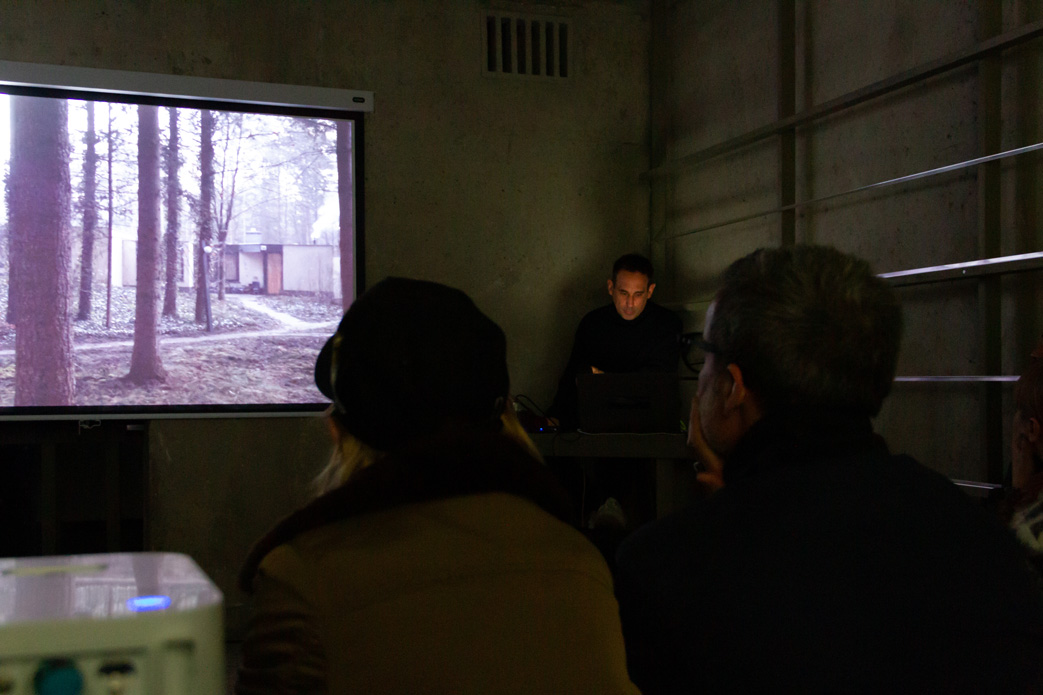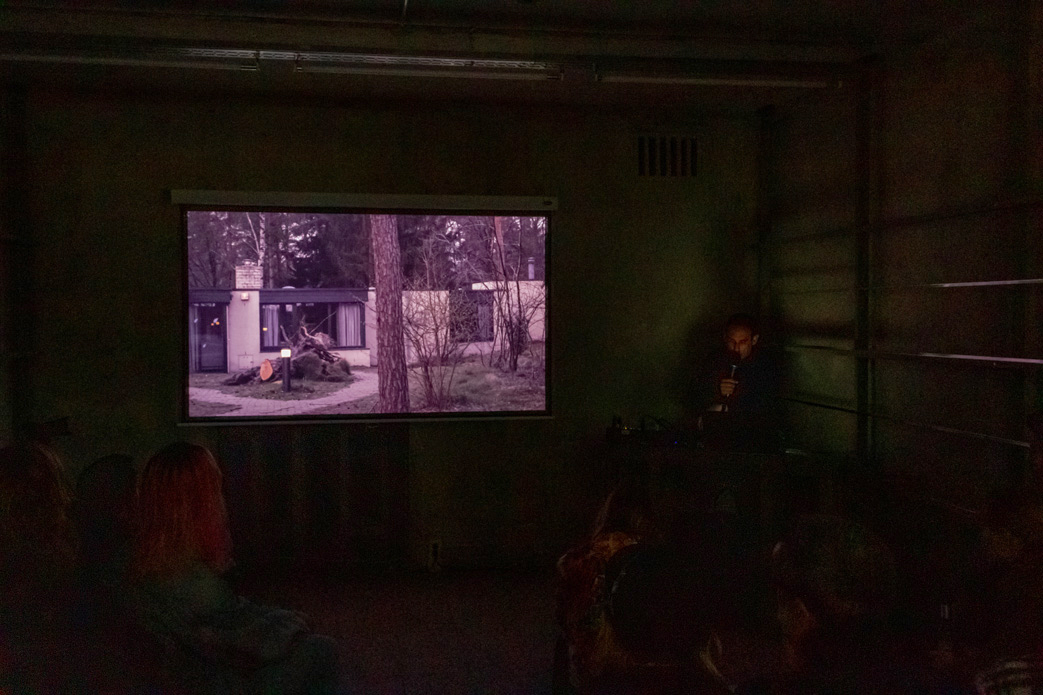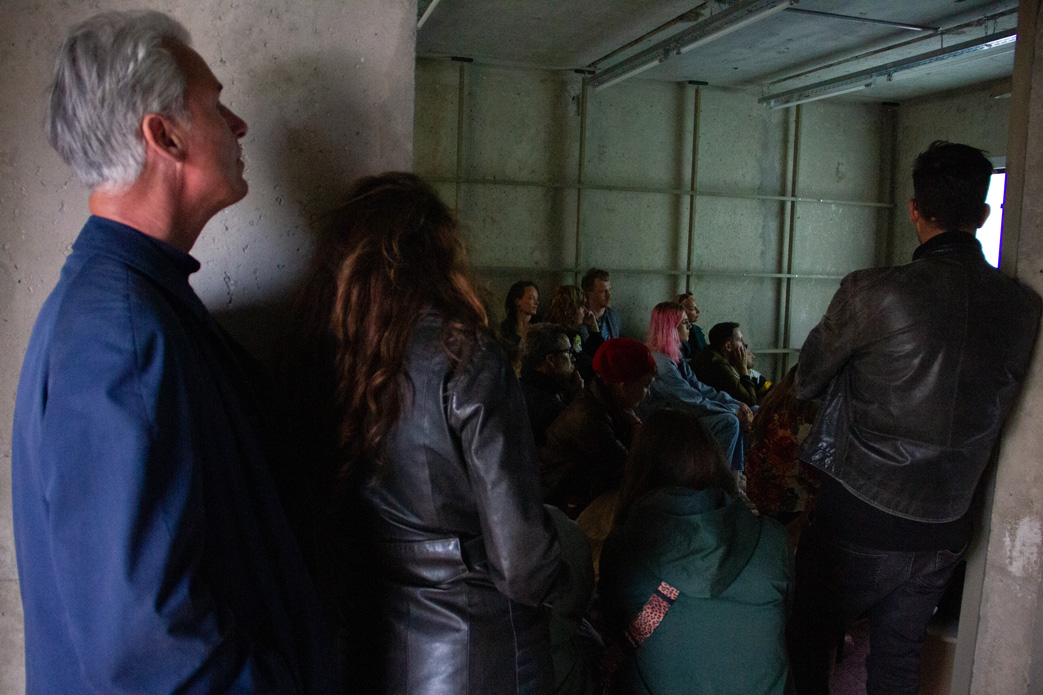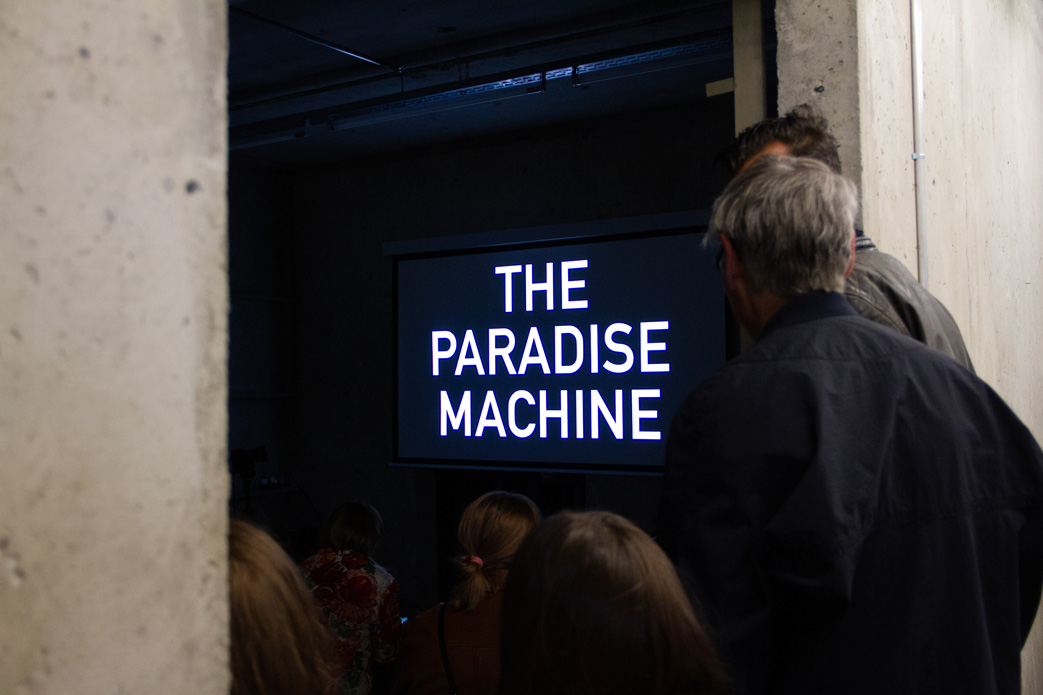 INTO THE PARADISE MACHINE
Video Screening & Lecture Performance, Stereo, 55 min, 2022
28.5.2022, Die Möglichkeit einer Insel, Berlin
https://www.moeglichkeit-einer-insel.de/into-the-paradise-machine-performance-lecture-und-video-screening
Documentation: Jules Denner & Tim Wulf


VIDEO STILLS